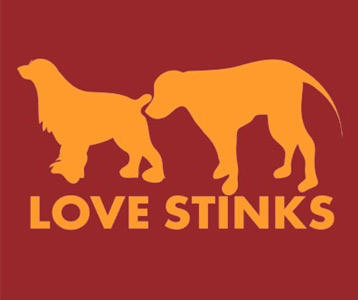 Boston, MA – An attorney friend sent this to me, and it's so long I won't waste your time by prefacing it with one of my long-winded prefaces. It's a personal letter from an irate boyfriend to his now ex-girlfriend. I've highlighted my favorite parts and I hope you enjoy it. So, enjoy it. (Names slightly changed as this is apparently some kind of legal document in a pending case, but everything else is as written.)
Hello Jenny,
I am sending you this email because you got the last of your belongings off of the farm and I can be reasonably sure you wont return to cause me or my family any more trouble. As you know we have dated for 5 years and unfortunately our relationship has abrubtly ended because once again I have caught you lying to me and cheating with some guy in Wisconsin.
During the last 5 years I have heard many times that I dont care about your feelings and we never really discussed my feelings, so I thought this would be a good time for me to share my feelings with you. To begin with I want to talk to you about Honesty and Trust, and Character.
Honesty is the most important trait in a human being and it starts within one's self. No one is completely honest but I believe everyone knows within themselves if they are being honest. Every day I look in the mirror and I think, Am I being honest with myself or not. I know the answer to this question when I look into my own eyes. If there is something I need to address in my own life I try my best to face up to it and address it to the best of my ability. This is the bedrock of my life. There are many times that I lack the fortitude to change things and many days I am weak and I lack the willpower to address some of the issues in my life but nonetheless I am aware of this and I am honest with myself. This is where honesty begins. Within oneself.
There is also honesty in dealing with other people. I truly believe the most despicable trait in a human being is dishonesty with others. There are many levels of dishonesty and I dont want to address the dishonesty that arises from politeness. I want to address the form of dishonesty that causes harm to others. Lying and cheating.  Lying to people who love you is the worst form. These people who are close to you, who work hard to try to help you, do not deserve dishonesty.
You are not honest with yourself or others.
I want to address the situation that led to the demise of our relationship. The weekend of July 27-29 I had my daughter with whom you used to have a very special relationship with. We went to Max Patch that Friday to work on the little cabin with some of our friends. You said you were going to come either Friday after work or Saturday.
You never showed up.
Because you went to Wisconson to fuck someone.
When I called you Sunday  you lied to me and told me you were in Charlotte and you had gone camping because your friend Heather was having marital problems.
That Monday you were suppossed to pick up your sweet little 11 year old neice Melissa to bring her to the mountains so we could take her camping in Cataloochee. I remember you talking about how excited she was because she had never been camping before and she absolutely loves her Aunt Jenny with all of her heart and this was going to be a great experience for her, especially given that she has experienced some problems at home.
Monday came and you did not show up.
Because you were in Wisconson drinking and fucking.
You told me you were having car problems, you would be coming Tuesday that your Mom was coming and was going to stay at our cabin in Maggie Valley. Tuesday came and you did not show up.
Because you had been to Wisconson drinking, smoking, and fucking.
Your Mom brought your niece Melissa to he mountains and  because you were not here I had to go to the cabin to unlock it making Mary and I late getting into Catalochee.
You finally showed up Wed. and made it to the campground late Wed. evening.
So here was this little girl who had never been camping expecting her Aunt Jenny to pick her up on Monday sitting around waiting for her Aunt Jenny to pick her up and take her camping.
Where was Aunt Jenny?
She was in Wisconson being a  drunken dishonest whore.
Now I must admit when I found out you were cheating on me it hurt. When someone who is close to you, who you work hard for lies to you it is very painful. I will get over that pain because I still have my honesty and my character intact. I am astounded that you would deny a little girl a great experience because:
You were in Wisconson being a dishonest whore.
Making everyone run around.
Wasting our time because you went to Wisconson to lay around drunk and fuck some guy that means nothing to anybody.
This makes my blood boil.
Trust is the building block of all human relationships. Trust is a precious commodity. Trust is earned. When you have earned someone's trust you have a responsibility to uphold it. You would complain I did not trust you. Well you were previously dishonest in your dealings and time and time again you were untrustworthy. Not doing what you said you were going to do and lying about what you were doing.
You never earned my trust and now we know why. Character is also earned and you have to constantly work on it. If you have a good character you live every day to uphold it. Without character, you have nothing.
One of your main problems is that even though you work hard you always destroy what you have worked for because you make poor choices. This has been a constant pattern throughout your life. I know you had a difficult childhood but it is time for you to confront and address these issues.
I now know that this is better for Mary in the long run because you have no character.
Please do not hurt her.
If you should happen to see her in Charlotte in the future and if you can not avoid her,  I want you to say hello and turn around and leave as quickly as possible.
I do not want you around her ever again.
That little girl is going to grow up with character and dignity.
This may have been hard for you to read but every word is true.
You are a middle aged woman.
Your time on earth is short.
Maybe you will heed my advice.
There will be no further communication.
Your humble servant,
Bill